Secretary Landgraf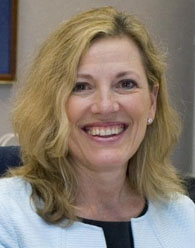 Rita Landgraf was sworn in as Secretary of the Delaware Department of Health and Social Services on Jan. 22, 2009. As Secretary, she leads the principal agency charged with keeping Delawareans healthy, ensuring they get the health care they need, and providing children, families, and seniors with the essential services they depend on. She oversees one of the largest departments in Delaware's government, with an annual budget of more than $1 billion.
Under her leadership, DHSS has provided a wide range of services -- from health care to child care to benefits assistance -- to help families weather the worst economic crisis since the Great Depression, all while helping to coordinate the state's response to healthcare reform efforts and to the needs of Delaware's fast-growing older population.
She co-chairs the Governor's Commission on Building Access to Community-Based Services, chairs the Health Fund Advisory Council, and is a member of the Delaware Hispanic Commission's Health and Social Services Subcommittee, the Delaware Health Care Commission, and the Delaware Center for Health Innovation Board. In January 2015 she was selected to serve on the new U.S. Department of Labor Advisory Committee on Increasing Competitive Integrated Employment for Individuals with Disabilities.
For more than 30 years, Secretary Landgraf has been a leader on health care, disabilities, and senior issues, including formerly as executive director of the National Alliance on Mental Illness (NAMI) Delaware and of The Arc of Delaware, which advocates for people with intellectual and developmental disabilities. She is also a former president of AARP Delaware. For her efforts, the University of Delaware inducted her into the University Of Delaware Alumni Wall Of Fame in June 2011.
Secretary Landgraf envisions a Delaware community, which is responsive to all citizens including seniors and individuals with disabilities, and a DHSS that enhances service delivery, mobility options, affordable housing, early childhood education, addiction treatment and recovery, employment, access to health care and life-enriching opportunities, all of which enable citizens to remain and thrive in their communities.