Immunizations / Vaccinations
Immunization services are provided to help uninsured and underinsured children up to age 18 receive the required childhood vaccinations. Services are provided on a sliding fee scale based on the household income. No one is denied immunization services because of an inability to pay.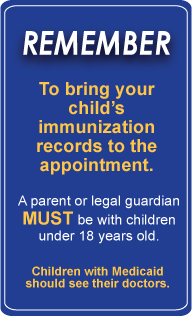 Flu shots are available for children 6 months of age and older at no charge.
Childhood immunizations are available by appointment only at the following locations:
Follow this link for additional information on Immunizations.