Cancer Treatment Program Provides
Financial Help For Uninsured Patients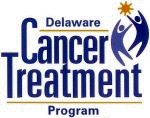 The cost of treating cancer can be devastating for the uninsured. Delawareans without health insurance often don't get regular mammograms, prostate cancer tests, or colonoscopies. Some say they "don't want to know" because they don't believe there is anything they can do if they're diagnosed with cancer. Now, however, eligible Delaware residents can receive free cancer treatment for up to 2 years.
You are eligible if you:
Are a Delaware resident,
Have been diagnosed with cancer on or after July 1, 2004,
Have no comprehensive health insurance, and
Have a household income less than 650% of the Federal Poverty Level. Please refer to the Federal Poverty Guidelines that match the year in which you are applying to the program. The URL address is: http://aspe.hhs.gov/poverty/
Additional information about Federal Poverty Level is available on the Division of Social Services webpage; click the "Back" icon on your browser's toolbar to return to this page.
You are not eligible if you have comprehensive health insurance, receive benefits through the Medicaid Breast and Cervical Cancer Treatment Program, or were not a Delaware resident when you were diagnosed with cancer.
If you think you, or someone you know, may be eligible, call the Medicaid Health Benefit Manager (8 a.m. to 4:30 p.m. Monday through Friday) for an application. The call is free.
After you receive your application, follow these steps:
Complete, sign, and date the application.
Mail it to: Division of Public Health, c/o EDS, P.O. Box 950 Manor Branch, New Castle, DE 19720-0950.
Enclose a completed certificate of diagnosis, signed and dated by your physician.
Enclose copies of proof-of-income documents.